a few notes.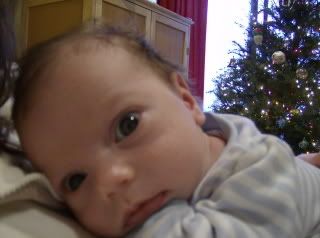 Ambrose started smiling last week:-) However, I haven't been able to really catch one of these beauties on camera, except for this, where his eyes are closed. Also, he kind of looks like he's about to sneeze:




He went to the doctor yesterday, and weighs 8 lbs. 9 oz.

ALSO, he's getting baptized next Saturday, and CHECK OUT this baptism gown I found:




I was super excited, because, after finding out that my great-great-grandmother's baptism gown had finally given out and was no longer available for family use, I've been hunting for a non-girly gown, and growing increasingly frustrated. Apparently christening gowns for boys are out anymore. Anyway, for anyone interested, the baptism is on Saturday, January 6 at 9am at St. George's Byzantine Catholic Church in Aurora.