playing house
I love snow!!! I was remembering yesterday how, when we'd get the first big snow of the year, my mom would let us take the day *mostly* off of school to play outside. She always did this thing where she'd fill up old syrup bottles with water and food coloring, and let us take them out to "write" on the snow. Man, that was the best.
I was telling Matt that this past week could probably be compared to a honeymoon, in a sense...getting snowed in, putting on some Christmas music and holding my baby all day. I love it:-) I'm hoping to get a Christmas tree this weekend, too, to add to the feeling of "playing house." (Though, Matt's swamped at work right now, so sometimes it feels like playing "single mom"...*sigh* oh well. Speaking of which, I could use some *light* reading material, if anyone has any recommendations, let me know.)
Anyway, Ambrose has been SUCH a good baby. Someone told me once that if humans continued to grow at the rate they do during the first 6 weeks of life, they would be the size of the sun by age 40. I believe it. I feel like he's already changing so much, even in the past week. He resembles Matt more every day.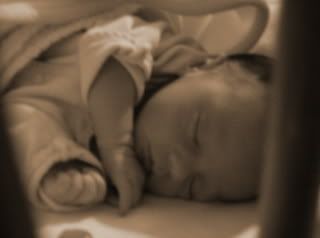 So, as a side note, my pre-pregnancy weight found me this week, and I dug out my pre-pregnancy jeans this morning. I'm delighted to announce that they fit! However, low-rise-hipster-flares are not NEARLY as attractive after carrying a human being between my hips for nine months. I'll never wear them again...but they do fit! :-)