on grief.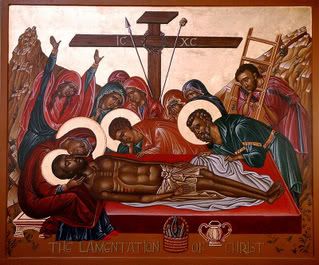 I ran accross this icon of The Lamentation over Jesus' death, in which Mary is cradling her Son's head in sorrow.

While studying it, I recalled a sobering, stunningly beautiful Ruthinian hymn we sang in church a few weeks ago.


The Grieving Mother

The grieving mother stood beneath the cross
Weeping in sorrow, tearfully she prayed:
O Son, my Son, innocent and faultless
Why must You suffer this bitter passion
On the Cross?

Bitter tears are falling near Your Holy body
O my child, I raised You long before these enemies
Now as I lose You, while I weep before You
O my Son, You leave me
And Your life I will no longer see.


Surely the Mother of God knows the true cost of our salvation more deeply than we can ever hope to.