struan bread.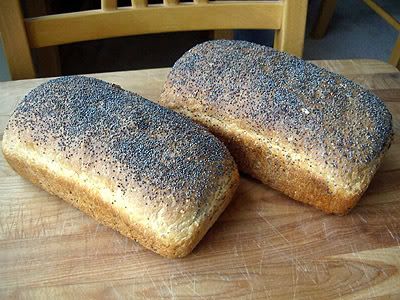 So, awhile back I fell in love with this bread called Struan Bread. Curious about the name, I did a little research on it's history.

As it turns out, Struan bread was derived from a traditional "Struan-Micheil", or "Saint Michael's Cake". It was tradition in Scotland on the eve of St. Michael's feast (September 29, I believe) that the oldest daughter in each household prepare this bread or cake from the harvest grains. This began by milling the grains into flour--there could be a variety of them, including barley, wheat, rye, and oats--and soaking them in milk (sheep's milk or buttermilk). The bread was usually unleavened, sweetened with honey, and baked by the fire. As it baked, it was brushed with a mixture of eggs, cream, and butter and then occasionally sprinkled with oats or caraway seeds. The next morning, the cake was brought to mass to be blessed by the priest, who encouraged the people to praise St. Michael for a bountiful harvest.

The baker was to take great pains to make this bread perfectly, in order to preserve the health and prosperity of her family. Even the excess flour from the baking board was saved, blessed by the priest, and then scattered among the flocks to preserve them as well.

Anyway, I thought that was interesting. And this bread is

tremendous

, so if bread is your thing you ought to try it, even though it's not quite traditional. It's worth the work.


Struan Bread

To soak:
3 tablespoons cornmeal
3 tablespoons rolled oats
2 tablespoons wheat bran
1/2 cup of water

Combine all ingredients and soak for at least one half-hour or as long as overnight.

In a large bowl, combine:
3 cups of flour
3 tablespoons of brown sugar
1 1/2 teaspoons of salt
1 package of yeast
3 tablespoons cooked rice (I've substituted rolled oats, uncooked)

Add:
1 1/2 tablespoons honey
1/2 cup of milk
3/4 cup of warm water
Cornmeal/Oatmeal/Bran mixture

Knead for approximately 10 minutes, place in a lightly greased bowl and let rise till doubled in bulk; about 90 minutes.

Punch the dough down, shape into a loaf, place in a loaf pan, and let rise for another hour. When finished rising, brush with a beaten egg (or milk, water, or butter) and sprinkle with poppy seeds or oatmeal if you want.

Bake at 350 for 40-60 minutes, until the loaf sounds hollow when tapped.