on the gravity of prayer.
So, during the many, many (oh, so many) hours I spend nursing Ambrose every day, I've begun reading

The Interior Castle

by St. Teresa of Avila.
She begins the book by discussing the effects of prayer on a person's soul-stating that prayer itself is the means through which we access our soul. It's interesting. I'll write more as I read more. But, what struck me today were these particular quotes on the seriousness of prayer. I so often grow lazy in daily prayer--only offering a request for one thing or another when it springs to mind, forgetting that we are called to be a prayerful people, that prayer is a serious command, and that we pray to a serious Creator. In this section, St. Teresa is discussing "hollow prayers" (i.e. rattling off the Our Father while mentally making your grocery list), but I think it applies equally to flippancy with any petition before Our Lord.

"If a person neither considers to Whom he is addressing himself, what he asks,

nor what he is who ventures to speak to God

, though his lips may utter many words, I do not call it prayer."

"The custom of speaking to God Almighty as freely as with a slave--caring nothing whether the words are suitable or not, but simply saying the first thing that comes to mind from being learnt by wrote or by frequent repetition--cannot be called prayer: God grant that no Christian may address Him in this manner."

On a less serious note:

(what?! you mean people really don't love to stare at my baby as much as I do?)



Heartbreaker.




Staring adoringly at the ceiling fan.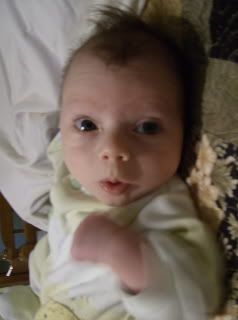 Finally! I caught the

real

'Magnum'.